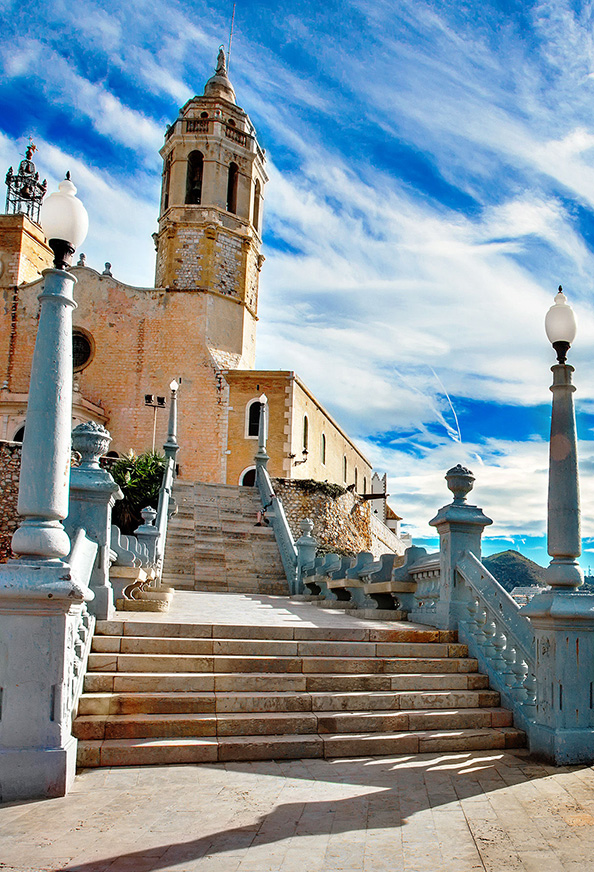 Advance reservation:
938 911 092
Combined visit to the beautiful coastal town of Sitges and Bodegues Sumarroca, in the wine-growing area of Penedès
10 am to 11 am. Visit to Sitges: A guided walk through the history of Sitges and Malvasia.
We will start from the Sitges train station and will walk through the widening of village, where the modernist houses are lokated, until the center and end up at the old town of Sitges, where we will see the Town Hall, the market, at present the Bacardi house, the Cau Ferrat Museum, Maricel and the Palau Maricel, the San Sebastián beach and the Parroquial church.
We will also offer a tasting of Malvasia wine. We will finish the tour at the Paseo de la Ribera to take the bus.

11h. Departure to El Penedès, to go to the ecological winery Sumarroca.

11:30h. Arrival. First we will visit the Sumarroca Farm in Monistrol d'Anoia with our Wine Jeep to know the secrets of the vineyard and tasting a cava surrounded by vineyards, next to the Romanesque church of the 11th century, Santa Creu de Creixà.
Duration 60 minutes.

12:40 h. Arrival at Bodegues Sumarroca, Finca Moli Coloma. Old paper mill of the XVI century surrounded by vineyards. Visit to the winery + vermouth with olives, potatoes, sausage of the area with tasting of oils and of a Sumarroca wine.
Duration: 60 min.

13:30h. Return to Sitges.

14h. Arrival at Sitges.



PRICE:


2 people - 124€ per person



DAY:


Available days Tuesdays, Thursdays, Saturdays (ask for availability)



SCHEDULE:


10h to 13:50h Sitges.



APPROXIMATE DURATION:


3h 50 min



LOCATION:


Sitges


Advance reservation:
938 911 092
Do you need more info:
La suscripción y el envío del siguiente formulario implica la autorización del usuario a favor de BODEGUES SUMARROCA, S.L. para el tratamiento de sus datos personales y de contacto, los cuales quedan incorporados en los sistemas de información titularidad de BODEGUES SUMARROCA, S.L. y cuya finalidad es la de dar respuesta a sus consultas, sugerencias y/o opiniones acerca de nuestra actividad empresarial.
En cualquier momento usted podrá ejercitar los derechos de acceso, supresión, rectificación, oposición, portabilidad y limitación, comunicándolo por escrito con indicación de sus datos a en la dirección de correo electrónico sumarroca@sumarroca.es.
Para más información acerca de nuestra Política de Privacidad, consulte el siguiente enlace:
https://sumarroca.es/politica-de-privacidad/
.