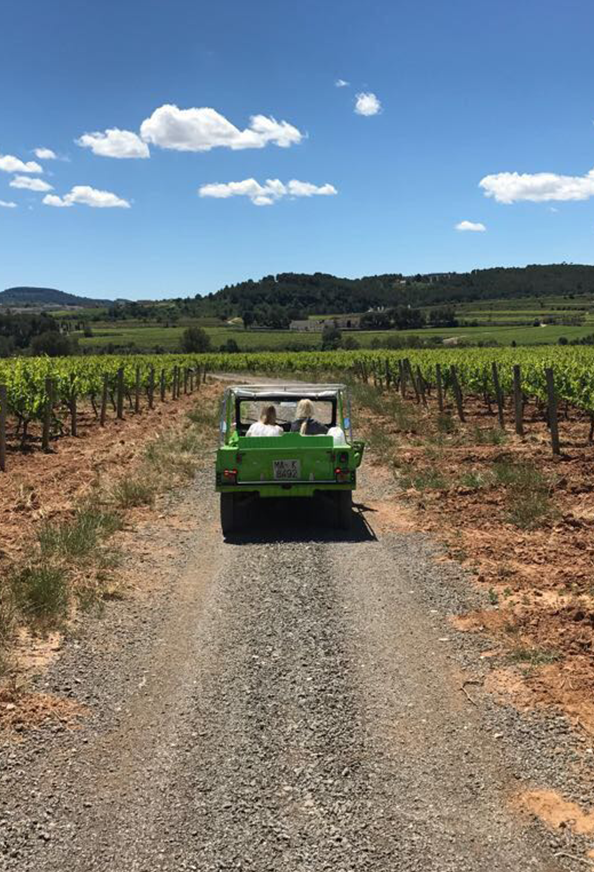 Advance reservation:
938 911 092
TOUR IN THE VINEYARD IN MEHARI & WINERY
12h Arrival to the winery
Tasting: cava Reserva Rosé
Winery tour (old cellar come from XVI Century)
Visit to our vineyard with mehari, and 2 tastings with an aperitive in the vineyards
Return to the winery

LANGUAGES: Catalan, Spanish and English



PRICE:


60 euros per person. For groups from 2/3 people to 36 maximum



DAY:


Friday & Saturdays: pre-booking. From Monday to Friday ask schedules



SCHEDULE:


12h



LOCATION:


Bodegues Sumarroca, Finca Molí Coloma, Sant Sadurní.


Advance reservation:
938 911 092
Do you need more info:
La suscripción y el envío del siguiente formulario implica la autorización del usuario a favor de BODEGUES SUMARROCA, S.L. para el tratamiento de sus datos personales y de contacto, los cuales quedan incorporados en los sistemas de información titularidad de BODEGUES SUMARROCA, S.L. y cuya finalidad es la de dar respuesta a sus consultas, sugerencias y/o opiniones acerca de nuestra actividad empresarial.
En cualquier momento usted podrá ejercitar los derechos de acceso, supresión, rectificación, oposición, portabilidad y limitación, comunicándolo por escrito con indicación de sus datos a en la dirección de correo electrónico sumarroca@sumarroca.es.
Para más información acerca de nuestra Política de Privacidad, consulte el siguiente enlace:
https://sumarroca.es/politica-de-privacidad/
.