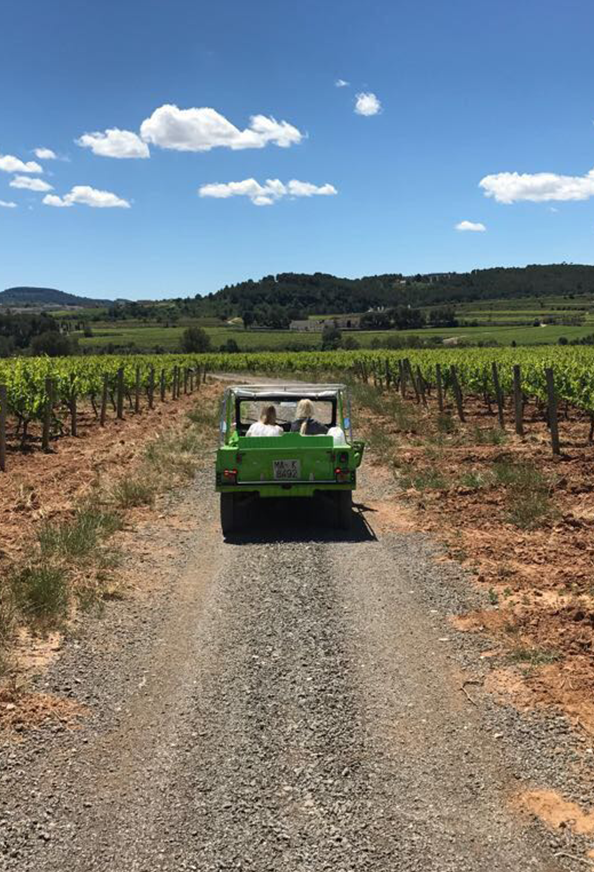 Advance reservation:
938 911 092
Walk through the vineyards & vermouth
Time runs slower in the nature.

Driving a Mehari has a special charm and if it is through roads and vineyards it becomes a particularly experience.

Learn about organic viticulture by crossing our vineyards.

When you reach the Romanesque church of Santa Creu de Creixà, you will find a km0 vermouth: sausage, cheese and olives, accompanied by our wines and cavas.

Route to the cellar and visit.



PRICE:


58 euros per person (for 3 people - driver-guide included. For less please, ask)



DAY:


All year



SCHEDULE:


Ask for an appointment



APPROXIMATE DURATION:


2h 30 min



LOCATION:


FINCA SUMARROCA, Monistrol d'Anoia


Advance reservation:
938 911 092
Do you need more info:
La suscripción y el envío del siguiente formulario implica la autorización del usuario a favor de BODEGUES SUMARROCA, S.L. para el tratamiento de sus datos personales y de contacto, los cuales quedan incorporados en los sistemas de información titularidad de BODEGUES SUMARROCA, S.L. y cuya finalidad es la de dar respuesta a sus consultas, sugerencias y/o opiniones acerca de nuestra actividad empresarial.
En cualquier momento usted podrá ejercitar los derechos de acceso, supresión, rectificación, oposición, portabilidad y limitación, comunicándolo por escrito con indicación de sus datos a en la dirección de correo electrónico sumarroca@sumarroca.es.
Para más información acerca de nuestra Política de Privacidad, consulte el siguiente enlace:
https://sumarroca.es/politica-de-privacidad/
.