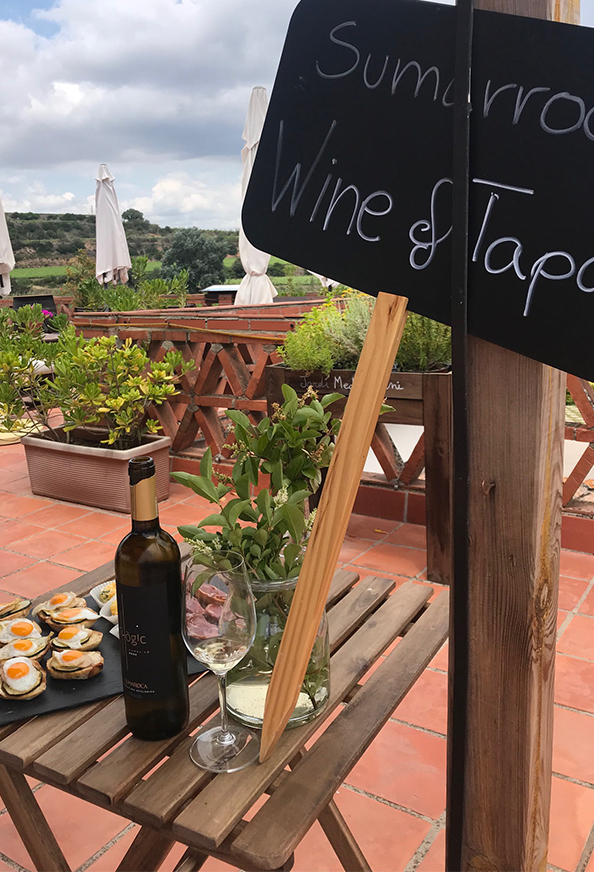 Advance reservation:
938 911 092
***Only groups from 10 adult people***- Welcome glass of cava
- VISIT to our winery (optional, included in the price)
- Before eating, we will tast 3 of our products.
- 3 oil tasting of our own production: Arbequina, Arbosana and Koroneiky.
- Afterwards the food will be served on the terrace overlooking the vineyard.

TAPAS:
Black olive toast with "trinxat d'escalivada", tomato, tuna and anchovy.
Penedès duck cannelloni
Toast with foie gras and quail egg with grilled courgette
Mini-"paisana" omelette/ Mini-Spanish omelette
Shrimp vegetable toast
Thin bread coca of duck ham, apple and raspberry jam
Local cheese board
- Dessert: Mousse.

Coffee/ tea.
Water, wine and Cava Sumarroca.

***(We also have at our disposal a Lunch of different prices)***



PRICE:


38€/pax. From 8 pax on.


Advance reservation:
938 911 092
Do you need more info:
La suscripción y el envío del siguiente formulario implica la autorización del usuario a favor de BODEGUES SUMARROCA, S.L. para el tratamiento de sus datos personales y de contacto, los cuales quedan incorporados en los sistemas de información titularidad de BODEGUES SUMARROCA, S.L. y cuya finalidad es la de dar respuesta a sus consultas, sugerencias y/o opiniones acerca de nuestra actividad empresarial.
En cualquier momento usted podrá ejercitar los derechos de acceso, supresión, rectificación, oposición, portabilidad y limitación, comunicándolo por escrito con indicación de sus datos a en la dirección de correo electrónico sumarroca@sumarroca.es.
Para más información acerca de nuestra Política de Privacidad, consulte el siguiente enlace:
https://sumarroca.es/politica-de-privacidad/
.